In October 2021 Theo Newton released an album called ØREHÆNGERE with 14 
new pop songs in Danish language. Several songs reached the top of the charts.
Theo is now working on new songs and has so far released two very different singles:
"Imellem Mennesker" & "Min Gamle Hat". You can listen online or here:
Theo Newton - Master of Film- and Music Creation & Production
Theo Newton - also known as Torben Thoger - is a Danish songwriter, composer, recording artist, music producer and filmmaker. Theo has studio facilities near Aarhus in Denmark.  

Theo Newton also creates original music in various genres for film, television, musicals and his own productions. He has released several albums and singles with both instrumental music and songs in both English and Danish language. In October 2021 he released an album called ØREHÆNGERE with 14 new songs in Danish language.

Theo's music has been on top of the charts in the United States and India and his music and songs are available online from your favourite streaming and download service. You can listen to some of the music and songs in the music players at the top of this page. On the BUY-page CD's are still available with free delivery all over the world.

Film making is a major part of his working life. He creates and produces documentaries, music videos, commercials and corporate films. Theo has developed his own unique documentary style of presentation films for businesses.  

Theo Newton is the owner and CEO of Newton Creative Dreamscape and earlier of Torben Thoger Productions. His clients include Danish television DR, Education Minister of Denmark, TDC, Cadbury plc, LVMH Moët Hennessy, Louis Vuitton S.A. and Solgården AS.
 
Theo is a partner in the media company UPNOW Productions and UP NOW Costa Blanca, who produce documentaries and films about businesses and attractions for online and TV-channel viewings. 
An online App with music for relaxation called Time Out Melody includes Theo Newton's music. He is also a partner in the company.

"Newton Creative Dreamscape" and "Torben Thoger Productions" 
create, produce and promote music and film.

CLICK HERE to watch a Scandinavian speaking film
about how your own presentation film could be.
... and CLICK HERE to watch an English speaking film about
corporate documentary style films that tell your interesting story. 
---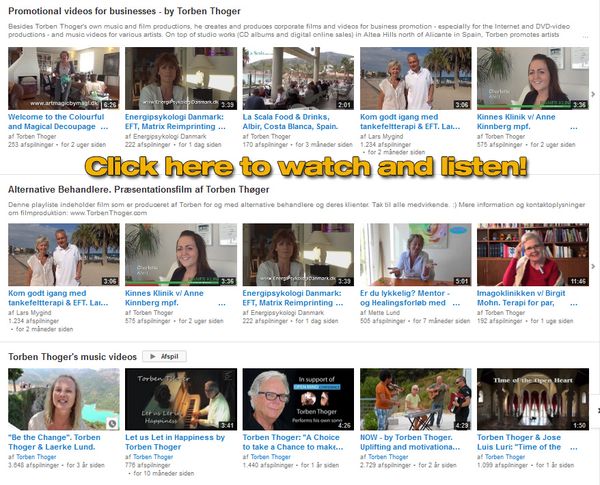 Click the photo above to watch YouTube films created and produced by Theo.
Choose a playlist. Many genres in English, Danish, Norwegian and Spanish.
---
NEW single release "MIN GAMLE HAT" (In Danish). Watch music video:
---
Single release "Imellem mennesker" (In Danish) listen on Spotify: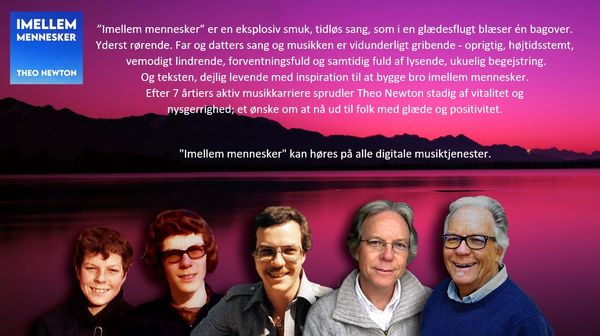 ---
Theo has released 14 new Danish songs on the album called ØREHÆNGERE.

CLICK HERE to hear samples from the 14 songs.
---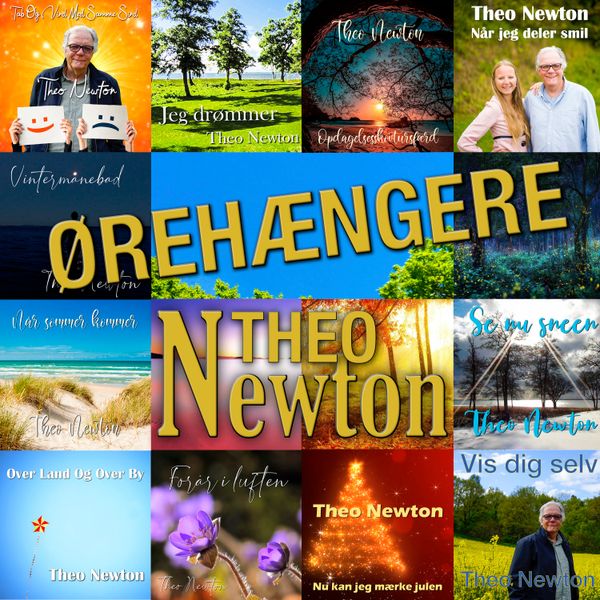 Check out some of the already released singles & music videos here:
The new songs are also available on major streaming and
download services like Spotify, Apple-iTunes, Amazon etc.
---
Game Changer is a collection of Theo's best songs
Most of the 18 tracks are from recent years and the title melody is brand new.
Theo Newton – also known as Torben Thoger - wrote his first songs when he was 14 years old in 1969,
so in 2019 he was celebrating his 50 anniversary as a songwriter and music composer.
---
UP NOW is Connecting International Communities with
Businesses and Attractions -  in a unique way

www.UPnowCostaBlanca.com
UPNOW Productions and UP NOW Costa Blanca are Connecting International Communities with Businesses and Attractions in a unique way through their own TV channel, Web TV and social media. UPNOW is dedicated to helping both those living in Spain and those visiting here.

UP NOW Costa Blanca creates documentary style films that uniquely present your business to the International audiences. Why documentary style films? Watch video:
Have you seen the 26 documentaries in the UPNOW series "Costa Blanca – the place to live and visit"? 
In these 15 - 60-minute documentaries, we interview 20 - 30 business owners and officials representing several
different nationalities and ask them what is special about this place and why they chose to live there.
You will also hear interesting anecdotes and information about the area.
---
---
Torben Thoger's album release "Songs about Love and Oneness" with
18 songs are especially created to enlighten and raise your energy vibration.
Click below to know more and watch a video presentation, which is also a
documentary about Torben's music and how music increases our vibration.




Another 8 albums by Torben Thoger, with music in the new age music genre are released Worldwide:
"Akasha", "Harmony", "The Present", "Primavera", "The Golden Age",
"Indian Summer - Rhythmic Yoga Tunes" and "Meditate or Relax. Healing Music by Torben Thoger"
The music has been on top of the charts in the USA and India.
All music on the albums is composed, arranged and produced by Torben Thoger.
The Danish composer and artist lives permanently on the Costa Blanca in Spain. Read more: Biography.
 
As a filmmaker Theo / Torben produces corporate promotional films,
commercials, documentaries and music videos.

On this website you can listen to the music and watch his music videos, corporate films etc.

The music albums and tracks are available in both CD and in downloadable MP3 format.
Buy it in music stores or on the Internet from Theo's own store or at other worldwide
online stores and streaming / download sites. You will find the links below.

If you need original music or filming for any production, contact Theo Newton.